For more than a week, we were just like the rest of the East Coast were wondering when Hurricane Florence would make landfall. The forecast was pretty consistent in showing where she would make landfall and knew that this was an intense storm. Many residents in North Carolina were already evacuating their homes and heading more inland to take shelter from the storm on Monday, September 10, 2018.
On Tuesday, September 11, 2018, we received word that all Coastal Counties were on a mandatory evacuation. Wednesday, September 12th our office closed at noon to be sure that we could safely evacuate the area just in case Florence decided to make landfall near our beautiful island. 
As the world watched one of the strongest storms inching closer and closer to the United States, we realized how large this storm really was. Beginning on Thursday, September 13th, the rain began in Eastern North Carolina and the wind was ripping through. By Friday, September 14th it had made landfall in Wrightsville Beach, North Carolina and we were still not sure if our area would be impacted. At 8 p.m., the core of Tropical Storm Florence had crossed from North Carolina into South Carolina, still throwing around 70 mph winds.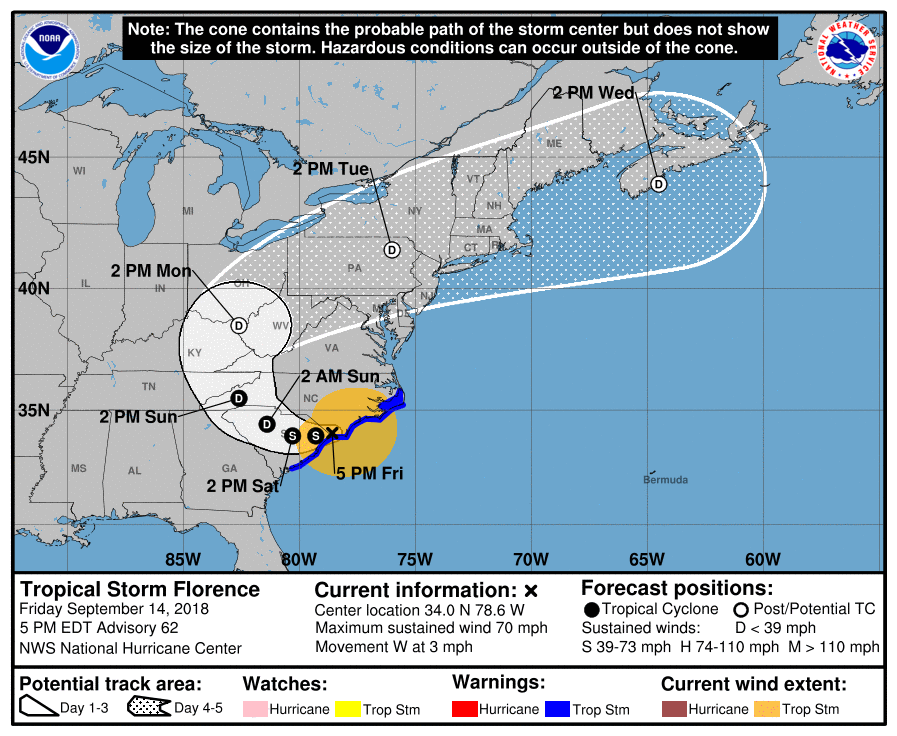 The next several days Florence showed her fury and decided to make a slow movement towards our state, South Carolina. Folly Beach did receive rain from the hurricane and some wind as well, but we were in the clear.
Folly Beach is Open
Folly's Best Rentals opened back up for business on Saturday, September 15th as the curfew ended at 1:00 pm. We watched the news and saw the devastation that Hurricane Florence left in her path. Many residents in the Carolina's have lost everything due to flooding, trees and just the devastation that Florence brought with her. While we feel very lucky to have had no damage or flooding to our area, our hearts go out to everyone in the Carolina's who have been affected. If you are looking to help those who have been affected, making a donation to United Way Hurricane Florence Recovery will go a long way.

If you have a fall vacation coming up in the next few weeks, please monitor the road conditions in South Carolina. There are still many roads that are closed including many roads in North and South Carolina due to flooding or damage from the storm. We want to make sure that our guests get here to Folly Beach safely for their vacation!